Materials:
One piece of fabric measuring 9" x 12"

Four pieces of tie material 18" long, approximately ¼ " to ½ " wide. Example: Grosgrain, Ribbed ribbon, or make your own ties out of fabric
OR


Two ¼" braided elastic, 9 ¾" each
Instructions:
Cut fabric to 9"x12" and trim ties to size.
Figure 1
Serge or zig zag stitch both short ends.
Figure 2

Figure 3
Fold fabric in half, short ends touching, right sides together.
Figure 4

Mark 1 ½ " in from raw edge at serged side.
Figure 5

Figure 6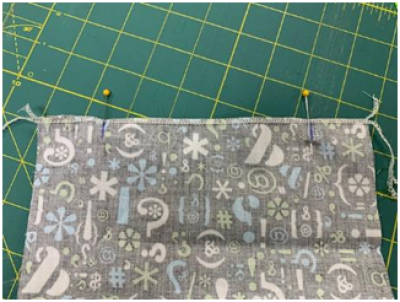 Stitch opening from raw edge to marked line, with ½" seam allowance, leaving center open.
Figure 7

Press seam open.
Figure 8

Figure 9

Top stitch 1/8" from folded edge of opening, on both sides of opening.
Figure 10

Figure 11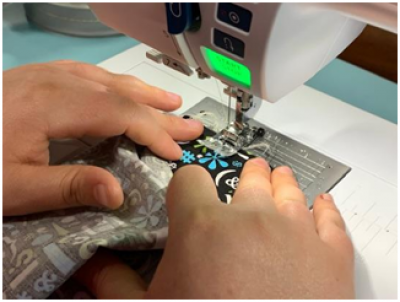 Figure 12

Here is what it should look like right side out:
Figure 13

From the inside out position, measure ½ " down from opening, then fold on marked line. Iron in place.
Figure 14

Figure 15

Figure 16

Figure 17

Figure 18
Insert one tie in each corner inside, matching raw edges. Pin in place. Make sure to have your ties hanging out the opening to avoid accidently sewing loose ends.
Figure 19

Figure 20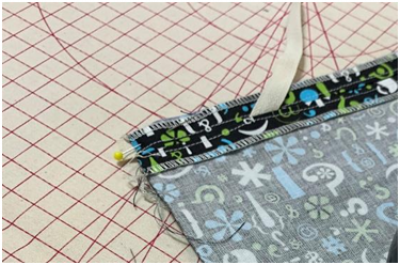 Figure 21

Stitch raw edges closed with ¼" seam.
Figure 22

Clip corners, making sure not to trim the stitch.
Figure 23

Turn right side out, iron flat.
Figure 24

Figure 25

Insert twist ties in upper part of opening fold.
Figure 26

Figure 27

Stitch upper part closed, 1/8th" from topstitch.
Figure 28

Figure 29

With opening side up, measure and mark a line 1" from bottom edge. Mark another line 1" above the first line.
Figure 30

Figure 31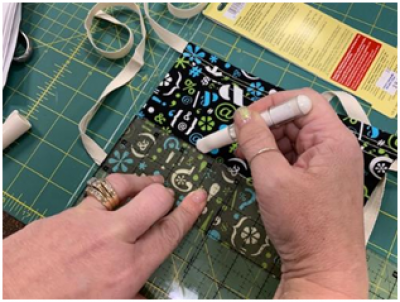 Figure 32

Fold on first line towards the front of mask (opposite side of opening). Match crease to the second marked line on backside of mask (opening side).
Figure 33

Figure 34

Finger press fold and pin in place on short ends.
Figure 35

For second pleat, mark a line measuring 1" from the top of the last pleat.
Figure 36

Now mark another line 1" above the last line you made. Using these lines as your guide, repeat the steps used to make the first pleat.
Figure 37

Figure 38

Figure 39
Topstitch pleats in place using ¼ " seam allowance, backstitch at beginning and end to secure your stitches.
Figure 40

Ta-da! All done!